On 30 March 2023, major reforms related to F-GAS were approved in the European Parliament. The members of the European Parliament adopted their position on the revision of the F-GAS Regulation.
As a result of this, the refrigeration sector is facing an unprecedented challenge, the cold chain will have to undergo a change in strategy regarding the II FF solutions in the short term, for both new and existing solutions.
In general terms:
Elimination of all refrigerants that contain fluoride (HFC – HFO) in refrigeration from 2025 and all refrigerants by 2050.
A progressive reduction of HFCs in the EU market from 2039, with the complete elimination of HFCs from production and consumption by 2050 (Annex VII).
Allowing customs authorities to seize and confiscate fluorinated gases imported or exported illegally, in line with the forthcoming Environmental Crime Directive.
From 2024, only 23.6% of the amount of F-gases used in 2015 will be marketed. From 2027, the percentage will drop to 11% and will then drop steadily to zero by 2050, following a declining trajectory. The biggest cuts will occur from 2024.
Extending the current scheme for approving and certifying F-gases to alternative refrigerants.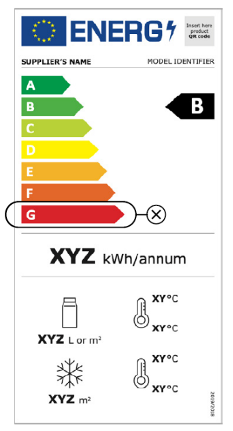 ECOLABEL energy labelling – European framework
The Energy Efficiency Index was defined to continue with new energy performance improvements.
We are close to the next phase, as from 01/09/2023 it will only be possible to sell models with an EEI ≤ 80%. As such, the sale of units with "G" will be prohibited, giving rise to more efficient models and improving the overall efficiency of refrigerated equipment.